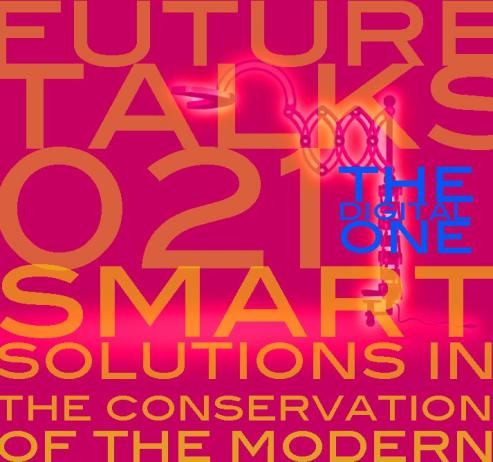 FUTURE TALKS 021_CALL FOR PAPERS

Die Neue Sammlung - The Design Museum
is pleased to announce the CALL FOR PAPERS for its seventh edition of the FUTURE TALKS conference series:

FUTURE TALKS 021
- the digital one -
SMART SOLUTIONS IN THE CONSERVATION OF THE MODERN

November 8 to 10, 2021
Online Conference
https://lnkd.in/dudc6ys

FUTURE TALKS 021 focuses on smart and intelligent solutions, both in the development, production and the preservation of modern design and contemporary art.
Smart advances in this field, addressing technology, design and production processes, new and innovative treatment and analysis methods as well as current conservation research and ongoing projects are very welcome.
To foster a lively and interdisciplinary dialogue we invite submissions from conservators, conservation scientists, designers, architects, artists, curators, collectors, engineers and design and art producers.
In order to create a dynamic event, the format of the presentations need not be a plenary talk. Ideas for workshops and panel discussions are of interest, too.


The detailed CALL FOR PAPERS can be found at:
https://lnkd.in/dudc6ys


The detailed conference program and further information will be posted in spring 2021.