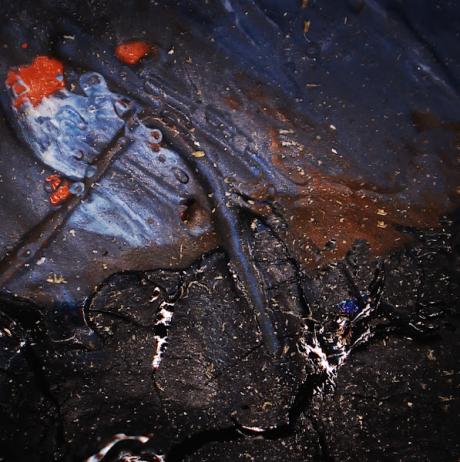 ​​​​​​On the occasion of the conclusion of the research project 'Cleaning Modern Oil Paints' (2015-2018), the Rijksmuseum, in collaboration with the CMOP project partners cordially invite you to the three-day Conference on Modern Oil Paints (ConferenceMOP) on 23, 24 and 25 May 2018. The conference is organised in partnership with the Netherlands Institute for Conservation, Art and Science (NICAS).
Background
This conference will address conservation challenges particularly associated with twentieth- and twenty-first-century oil paintings. These challenges are distinct from those found in paintings from previous centuries. Phenomena that have been recently observed include the formation of vulnerable surface 'skins' of medium on paint surfaces, efflorescence, unpredictable water and solvent sensitivity, and alarming incidences of dripping paints several years after the paintings have been completed. Many of these paintings are also unvarnished, rendering their surfaces particularly vulnerable.
Marking the completion of 'Cleaning Modern Oil Paints' (2015-2018), the conference will provide an opportunity to share the outcomes of this major research initiative and will also provide a follow-up to the Issues in Contemporary Oil Paint symposium, held at the Cultural Heritage Agency in Amersfoort in 2013.
Scope
The focus of the conference will be on recent research and emerging practice in the conservation of sensitive contemporary oil paint surfaces and the condition of oil paintings seen from various perspectives. The conference aims to address a wider public of conservators from all fields including e.g. painting, sculpture, paper; as well as researchers, artists, curators, paint manufactures and other interested practitioners.
A particular focus will be on the practice of conservation and how knowledge is transferred from conservators to researchers and vice versa.
Conference topics
We invite abstracts for oral presentations and posters on subjects such as:
cultural historical context of use of oil paint in the 20th Century
developments in artists' oil paint technology; paint manufacturers; patents
characterization of modern-contemporary oil paints and paint surfaces
paint degradation and long term stability
the artists' voice and influence on perception of curators, conservators and scientists
approaches to conservation and display
conservation of oil paintings; practical surface treatment
The abstracts will be distributed to the participants at the conference. Presenters will be asked to submit a paper to be published in the postprints of this conference.
Abstract submission
Program
The program comprises a 3-day conference with lectures and poster sessions with pitches.
Post-prints
We are aiming to publish the proceedings as a hard copy book in the "Cultural Heritage" series by Springer in the first half of 2019. Editors: Klaas Jan van den Berg, Ilaria Bonaduce, Aviva Burnstock, Leslie Carlyle, Gunnar Heydenreich, Katrien Keune, Bronwyn Ormsby and Mikkel Scharff.
Principal project investigators of CMOP and organisers of ConferenceMOP
Ilaria Bonaduce (University of Pisa)
Aviva Burnstock (Courtauld Institute of Art, London)
Bronwyn Ormsby (Tate, London)
Katrien Keune (Rijksmuseum, University of Amsterdam)
Robert van Langh (Rijksmuseum, NICAS, Amsterdam)
Klaas Jan van den Berg (Cultural Heritage Agency of the Netherlands, University of Amsterdam)
CMOP Project Partners
University of Amsterdam, The Netherlands
Rijksdienst voor Cultureel Erfgoed, The Netherlands
Tate, United Kingdom
The Courtauld Institute of Art, United Kingdom
University of Pisa, Italy
Gemeentemuseum Den Haag, The Netherlands
The Getty Conservation Institute, America
Stedelijk Museum, The Netherlands
Centre for Art Technological Studies and Conservation (CATS), Denmark
Opificio delle Pietre Dure, Italy
CMOP is a Joint Programme Initiative Heritage Plus EU project partly funded by EU/H2020, partly by NWO, AHRC and MIUR.
tate.org.uk/about/projects/cleaning-modern-oil-paints
jpi-culturalheritage.eu/joint-activities/joint-call/
Important dates
Call for Abstracts open: 20 October 2017
Deadline Abstracts: 15 January 2018
Authors acceptance notification: 15 February 2018
Preliminary programme online: 20 February 2018
Early registration deadline: 15 March 2018
Student grant
NICAS will award ten students with a free ticket to the conference.
To be eligible for the student grant you have to:
Be a student registered for the year 2017/ 2018
Have no access to reimbursement for the conference fee in any form
To apply for the student grant, please send us (conferenceMOP@rijksmuseum.nl):
Proof of student registration for the year 2017/ 2018
A motivation letter
A letter of recommendation by a professor
Social program
To be announced
Venue
The venue will be in the auditorium of the Rijksmuseum located at Museumstraat 1 in Amsterdam, The Netherlands.
Plan your stay
Information about hotel reservation will follow soon.
Address and contact
Contact information: conferenceMOP@rijksmuseum.nl
Mail address: Hobbemastraat 22, 1071 ZC, Amsterdam
Telephone: +31 (0)20 674 7000
Key publications
"Issues in Contemporary Oil Paint" (K.J. van den Berg, A. Burnstock, M. de Keijzer, J. Krueger, T. Learner, A. de Tagle, G. Heydenreich, editors), Springer International Publishing Switzerland 2014.
This conference is made possible by the generous support of AkzoNobel.
When
23, 24 and 25 May 2018
Registration
Registration will open soon.
The registration fee includes an abstract book, refreshments and lunch and complimentary 3-day entrance to the Rijksmuseum Amsterdam.
Regular participant
Early-bird fee before 15 March 2018: € 225,00
Regular fee after 15 March 2018: € 325,00
Student participant
Student fee € 100,00
Students have to send proof of their student status to the conference e-mail address before purchasing their ticket.
Cancellation fee
Before 15 March 2018: 50 % of your fee
After 15 March 2018: no refund
Where
Rijksmuseum, Museumstraat 1 Amsterdam