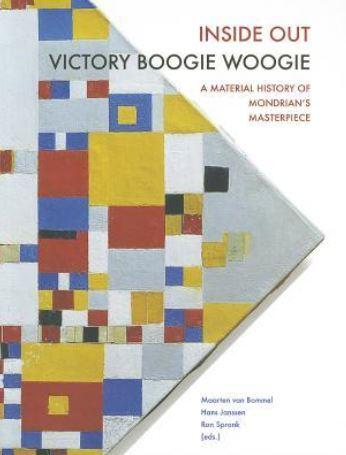 Inside out Victory Boogie Woogie
A Material History of Mondrian's Masterpiece
Maarten van Bommel, Hans Janssen, Ron Spronk
Victory Boogie Woogie, Mondrian's unfinished masterpiece created in 1942-44, has come to be regarded as not merely the high point of his oeuvre, but also as a dazzling icon of non-figurative art in the twentieth century. Although Mondrian did not live to give the painting its title, it is known that he regarded it as a development of his earlier work, Broadway Boogie Woogie. The work was acquired by the Dutch government in 1998 and has since been on permanent loan at the Gemeentemuseum in The Hague. Despite its landmark status in art history, Victory Boogie Woogiehas never been studied in detail. This pioneering survey tracks the minute detail of the creation and physical appearance of the painting, delving into historical sources, conservation history and microscopic analysis of the paint surface and below.
Maarten van Bommel is senior scientist at the Netherlands Cultural Heritage Agency.
Hans Janssen is chief conservator of modern art at the Gemeentemuseum in The Hague.
Ron Spronk is professor of art history at Queen's University in Kingston, Ontario and at the Radboud Universiteit, Nijmegen.
Reviews
"This important volume explores Mondrian's masterpiece from every angle, tracing its critical and material history while reporting on new technical studies -- a heterogeneous approach befitting a painting whose singular achievement was (in the words of its curator) to have 'no dominant components.'" Harry Cooper, Curator of Modern & Contemporary Art, National Gallery of Art, Washington