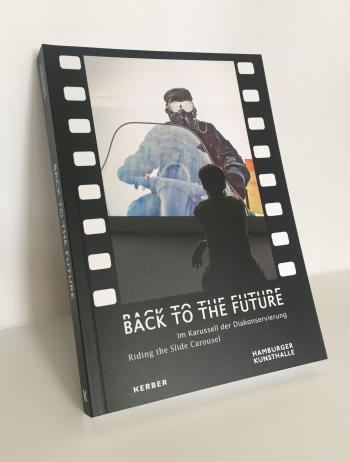 The analogue slide technique is about to become obsolete. From 2015 to 2018, the conservators at the Hamburger Kunsthalle thus carried out a research project dedicated to the urgent preservation of the medium and the forward-looking conservation of contemporary slide-based artworks. Supplemented with comparative curatorial and art historical positions, this highly topical volume presents the results and research contributions of international conservators and hence lays the foundations necessary for future conservation-related examination of media, photographic, and slide-based artworks.
This publication is published to mark not only the Project for the Conservation of Slide-based Artworks (2015–2018) but also the correspondent symposium (January 18–19, 2018) at the Hamburger Kunsthalle. Published by Hamburger Kunsthalle / Kerber Publishing House. Edited by Barbara Sommermeyer and Claartje van Haaften.
Authors are Tiziana Caianiello, Lénia Oliveira Fernandes, Claartje van Haaften, Martina Haidvogl, Brigitte Kölle, Francesco Leonelli, Katrin Pietsch, Barbara Sommermeyer, Tina Weidner, Babette Marie Werner.
Order at https://freunde-shop.de/h/onlineshop_93.php?id=93&prod=640&sl=en