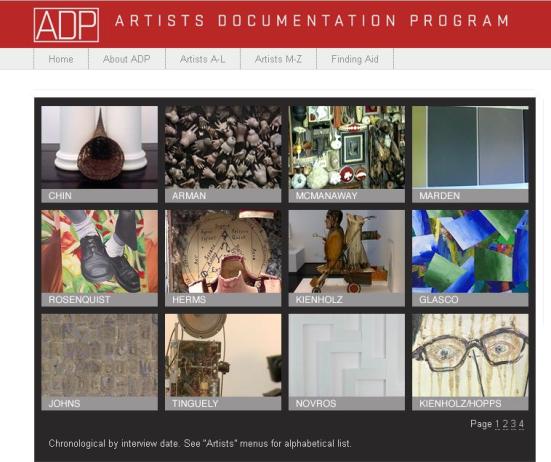 The Artists Documentation Program (ADP) interviews artists and their close associates in order to gain a better understanding of their materials, working techniques, and intent for conservation of their works. All interviews are conducted by conservators in a museum or studio setting.
History of the program
In 1990, The Andrew W. Mellon Foundation awarded a grant to the Menil Collection for Carol Mancusi-Ungaro to create a series of interviews with artists in front of their works of art in order to understand a great deal more than had hitherto been known about artists' materials and techniques. The funding enabled the filming of the interviews that were intended primarily as research documents. Unlike programmed questionnaires that were widely used by museums at the time, this unique approach was designed to capture the artist's attitude toward the aging of the art and those aspects of its preservation that were of paramount importance to the artist. Structured as a conversation between the artist and conservator, the intent was to document the current state of the work of art under discussion as well as the artist's intonation and thought processes that lay behind his or her opinions. These important features were, and continue to be, lost in written questionnaires and published interviews.
Read more.
Artists in the ADP archive: