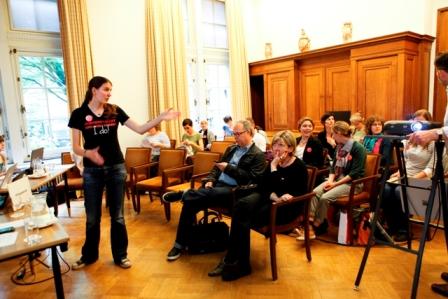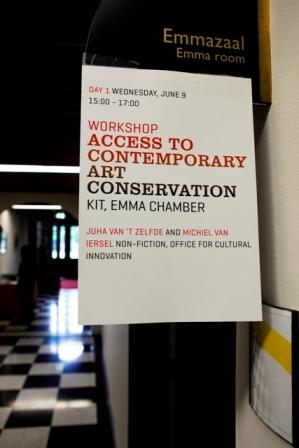 International symposium Contemporary Art: Who Cares?, 2010
Parallel session
Access 2 Contemporary Art Conservation
Wednesday 9th June, 15:00-17:00
Juha van 't Zelfde & Michiel van Iersel
Non-fiction is an office for cultural, urban and technological innovation, founded by Michiel van Iersel and Juha van 't Zelfde in 2008, providing cutting-edge ideas and activities. Based in Amsterdam, it is a collaborative vehicle for making things public and bringing together public and private interests in the field of spatial and cultural strategies, new media and the arts.
During the successful Inside Installations exhibition in Kröller-Müller Museum in 2006-07, the visitor was given a unique 'behind-the-scenes' look into the working practice of the conservator of modern and contemporary art.  Visitors witnessed a conservator at work on an installation in the exhibition room. This approach is just one of the many ways to educate the public about the conservation of contemporary art.  Multi-media and internet technology are also often used by museums to create visitor tours or online learning courses. It would seem however that (whatever the chosen medium) issues on the conservation of contemporary art are not often dealt with. This is an interesting fact given that when such issues are made accessible, the public's understanding and appreciation of the artwork increases. Participants of this session will learn about how organisations (in and outside of cultural heritage) are using new media and emerging technologies to engage with audiences. In addition, the guest speaker will discuss how their museum has attempted to educate the public on issues of conservation of contemporary art. The workshop part will then  focus on how new media strategies can be deployed in the domain of contemporary arts conservation.
Ton Quik (1950) is curator education and events at the Bonnefanten Museum in Maastricht and has produced various multi-media productions over the past years. He will talk about a recent multi-media tour on the collection from 2008, taking a documentary entry of a Sol LeWitt wall drawing as an example. He will discuss practical implications of the decision to offer that kind of information to the audience and lessons learned from that experience. To stay with the Sol LeWitt example, he will also discuss current plans to inform the public on the forthcoming reinstallation of LeWitt Wall drawing # 801 in the cupola of the museum.