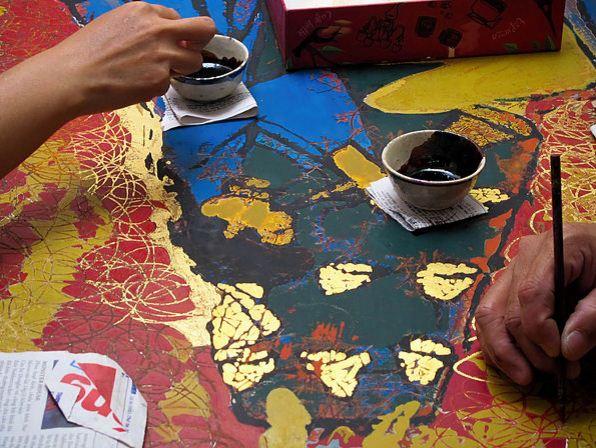 Updated May 2023
INCCA-Asia Pacific is a regional working group of INCCA. It brings together art conservators, curators, collection managers and artists in a network of care for contemporary art in the Asia Pacific region. INCCA-AP members have experience working with all types of contemporary art and are interested to meet and share with others in the region. Information about other INCCA regional groups can be found here.
OBJECTIVES
To provide a network of mutual assistance and support for artists, conservators, curators, archivists, collectors, educators and other conservation practice related professionals caring for contemporary art in the Asia Pacific region.

To investigate specific issues and challenges of the region such as issues of contemporary conservation practice, material culture, climate, availability of resources for conservation practice, documentation, fusions of traditional and contemporary art practices, conservation awareness and education and training opportunities.

To promote awareness, build relationships and explore similarities in the roles and working practices of art professionals in the region.
2023 WORKING GROUP MEMBERS
Alessandra Guarascio INCCA-AP Working Group Co-ordinator (Conservator, Installation Art, M+ Hong Kong)

Melanie Barrett (Conservator, Singapore Art Museum)

Vicknes Thanasegeran (Paper Conservator, Heritage Conservation Centre, Singapore)

Anasthasia Andika (Senior Registrar, Singapore)

Masashi Kajihara (Head of conservation and restoration of artworks in the museum collection at the Okinawa Prefectural Museum & Art Museum, Japan)

Jie Zeng (Contemporary Art Practitioner, publisher, art space director and art conservator Chengdu, China)

Karina Jagudina, (Founding Director of KJ Conservation & Consultancy Ltd, Hong Kong)

Sabine Cotte (Private Conservator, Melbourne, Australia)

Anne Carter (Painting Conservator QAGOMA, Brisbane, Australia)

Maria Vicroj (Painting Conservator, Sydney, Australia)
INCCA-AP was founded as a group of INCCA in 2014 by Diana Tay, Anne Carter, Sabine Cotte, Sarah Hillary, Bettina Ebert and Selina Hallim. In-kind support from the Australian Institute for the Conservation of Cultural Materials (AICCM) and the Queensland Art Gallery|Gallery of Modern Art (QAGOMA).
We would love to hear from you:
Become a member of INCCA to participate in programs, or simply subscribe on the INCCA home page to receive monthly newsletters with updates about INCCA-AP projects and events.

Search 'INCCA-AP' on the INCCA website to find tagged content and leave comments.

Join us on INCCA's Slack channel (# asiapacific) for informal exchange of ideas by clicking 

this link

.
email us at 

incca.ap@gmail.com