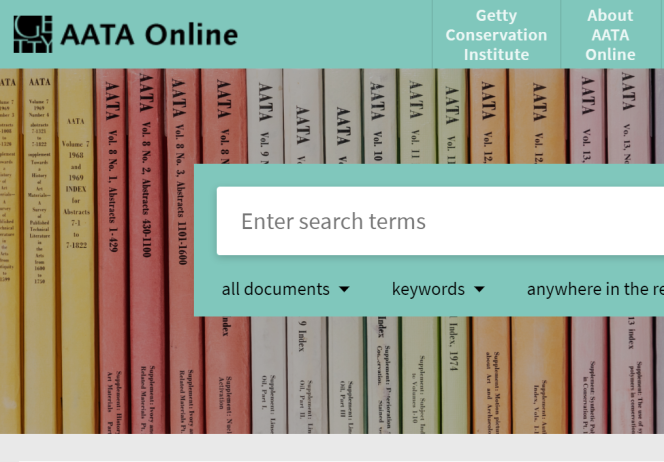 AATA Online
is a free research database containing abstracts of literature related to the preservation and conservation of material cultural heritage. It has been managed and published by the Getty since 1983. AATA Online contains over 156,000 records and adds approximately 4,000 new records each year through regular updates. The database also includes selected subject-specific bibliographies produced as part of the Getty Conservation Institute's own conservation and scientific research projects or as part of specific collaborative projects in which the Institute is involved.
The sources covered in AATA Online include those that address the following:
Research, analysis, restoration, preservation, and technical documentation of works of art, material culture, and archaeological and architectural sites and materials

Techniques applicable to the study and treatment of works of art, archaeological materials, or architecture

Physical and chemical properties and behavior of the materials that constitute or affect works of art and material culture, as well as the substances used in their preservation treatment, repair, and presentation

Notices of objects and works of art newly discovered or authenticated, and art historical studies if they shed light on the nature or techniques of construction of such objects or materials

Nontechnical literature addressing issues, ethics, and emerging areas of conservation research and practice such as cultural tourism, economics and values.
Go to AATA Online